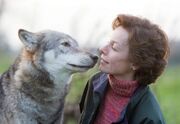 Michelle Paver was born in Nyasaland (now Malawi), where her South African father ran the mini Nyasaland Times, and her Belgian mother wrote a weekly gossip column. Later, in 1963 her family moved to England. There she was educated in Wimbledon at Lady Margaret Hall, Oxford. That's when she made her first serious attempts at writing. The first 2 (novels) were rejected, followed by a few children's fantasy books that were also rejected though in a more encouraging way. Michelle knew that she wanted to write, but she didn't think she'd be able to make a living at it. On a spur of the moment thing she chose law as her keep me standing job. Outwardly, Michelle was a success. Then in 1996 her father died, and that proved a wake-up signal. Michelle spent 1997 travelling around Peru, Ecuador, South Africa, France, and the States. Therefore finishing the first draft of Without Charity. Then she quit her job and was offered a publishing contract. Without Charity was selected by WH Smith (Britain's biggest booksellers) as one of a handful of debut novels to be awarded their Fresh Talent accolade. Now, Michelle finally works as a writer full-time.
Ad blocker interference detected!
Wikia is a free-to-use site that makes money from advertising. We have a modified experience for viewers using ad blockers

Wikia is not accessible if you've made further modifications. Remove the custom ad blocker rule(s) and the page will load as expected.